By Eloise Ross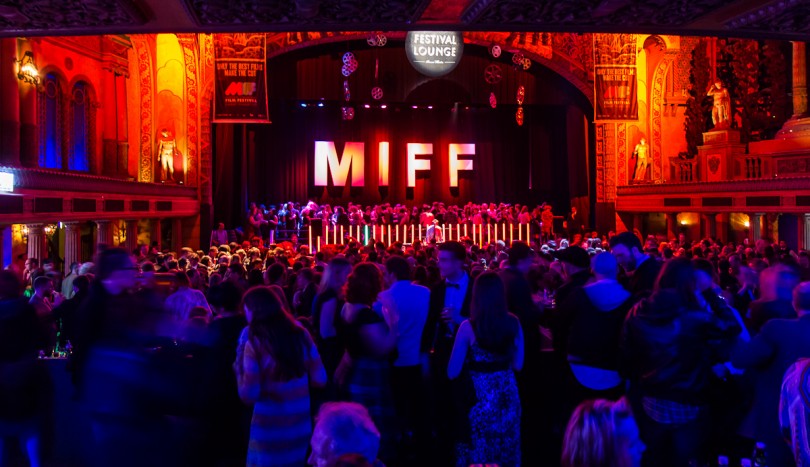 The most recent iteration of the Melbourne International Film Festival signalled a possible drastic change for its future years. The Victorian state capital was overtaken by a celebration of cinema for two and a half weeks, spread across eight venues in Melbourne's inner city and sprinkled throughout a few regional centres. The treats of MIFF are par for the course in August, and although it was great to see the continued regional expansion, I estimate that one hundred fewer films were programmed than had been in previous years. While Artistic Director Al Cossar boasted of the festival's "nearly two hundred and seventy films" during the introduction to a screening, I'm sure that the number used to be closer to four hundred. I can't speculate here on why this choice was made. What is evident is that in its 71st year, the deduction meant that attendees had fewer films to see, fewer sessions to choose from, and a smaller chance of being wowed by popular titles and surprise discoveries alike.
A promising new feature this year was special program strand Critical Condition, designed to demonstrate the power and value of great criticism through history by showcasing a range of films that were once panned but have since been championed. This was to celebrate the tenth year of the Critics Campus, the MIFF critics' educational program in the vein of the New York and Locarno Critics Academies. The strand consisted of six films that were introduced by mentors at this year's Critics Campus and followed by panel discussions with three speakers. As a way to focus on films that don't necessarily receive attention from audiences, it turned out to be a hit, as almost every session was sold out or very close to full. I only saw two of the six – others were Trouble Every Day (Claire Denis, 2001) and Querelle (Rainer Werner Fassbinder, 1982), which I'd seen, and Lord Shango (Ray Marsh, 1975) and Symbiopsychotaxiplasm: Take One (William Greaves, 1968), which I hadn't. It's a real shame that the film screenings weren't repeated; clearly, there is a hunger for this programming and its conscious effort to frame critical discourse.
Films from this section were my introduction to the festival this year, and together they were a chaotic, colorful, and vibrant burst of energy. I loved the chance to see Chantal Akerman's Golden Eighties (1986) again, and to appreciate the synchronicity of seeing a film about two businesses in the sunken levels of a shopping mall at a cinema house in the sunken pit of a shopping mall. The one I will remember, though, is Fresh Kill (Shu Lea Cheang, 1994), a vibrant and colorful film with an environmental urgency pertinent to the present day. Such discoveries are the joy of festivals like this. The post-film panel discussion spent some time on whether Fresh Kill should be considered a piece of video art, a legitimate question despite its clearheaded message, given Cheang's background as a multimedia artist and the film's messy narrative structure and cyberpunk aesthetic. I have asked a similar question about the work of other artists engaged in post-production assemblage and found footage constructions, like the Australian creative duo Soda_Jerk. Do they make cinema, or art: why not both?1
Soda_Jerk's latest entry, Hello Dankness (2022), screened twice at the fest. It's a film that attempts to summarize and to a lesser extent dissect the reality-exploding engagement with political and cyber culture of the last decade (or more). Whether it achieves the critical sharpness intended or not, Hello Dankness has value in how it gives a home to chimerical memes, smart or influential responses to world events that can disappear all too quickly on the internet. Plus, it has a great sense of humor, but is not without a poignant reflectiveness. A whirlwind stoner musical comprised of film samples, current affairs soundbites, and cool tunes, proudly pirated and honestly recontextualized, this is also a formally impressive work. It's true that other artists are working in the same arena, but part of the thrill of Soda_Jerk is their scale, and they were awarded the Blackmagic Design Australian Innovation Award in recognition.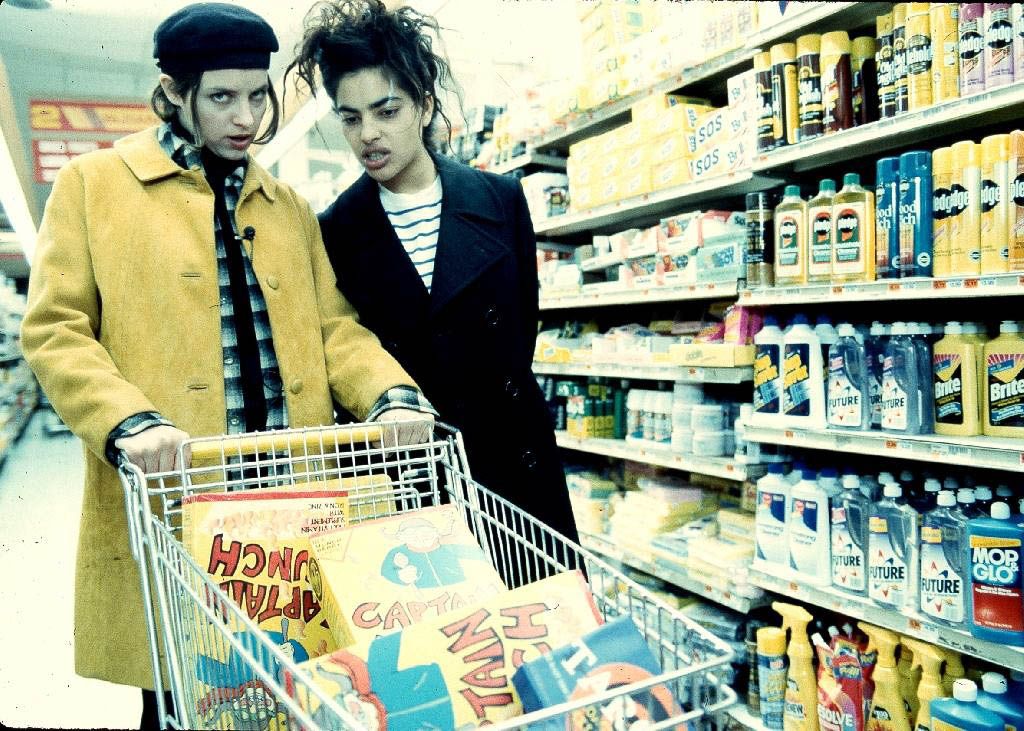 I usually gravitate towards retrospective screenings at festivals when I can. Retrospectives at this year's MIFF included two Director in Focus strands, highlighting the work of Dario Argento (his 1987 film Opera was the only one I saw, but it was fantastic) and Safi Faye, the Critical Condition strand, and a seemingly random collection of restorations, described as "a program of cinematic treasures, classics and curios, newly restored to their former glory – ready to be discovered or ripe for rediscovery." This section lacked the structure of last year's "Melbourne on Film" focus, which was proud to highlight the cinematic production history of the festival's own city, but it did have some brilliant inclusions.
One of these heralded from Melbourne. With Love to the Person Next to Me (Brian McKenzie, 1987) is an interesting portrait of a lonely guy driving a friend's cab for some temporary income and making cider to share, or not, with his neighbours. In a dark and moldy apartment, Wallace (Kim Gyngell) slices and juices the apples for this cider – its production surely couldn't meet cleanliness standards – while listening back to tape recordings of his recent passengers' monologues. It's a dark, banal, and intimate portrait of a Melbourne that we don't get to see on screen any more, and it's surprisingly tender. An early scene depicts Wallace alone in a post-awards room at "the show" (I assume the Royal Melbourne Show, where members of my family also used to enter baked good and crafts), where he converses awkwardly with two older women after winning a prize. This had a single sold-out screening in one of the smaller cinemas, with the director in attendance. More screenings for quiet Australian restorations like this would be worthwhile.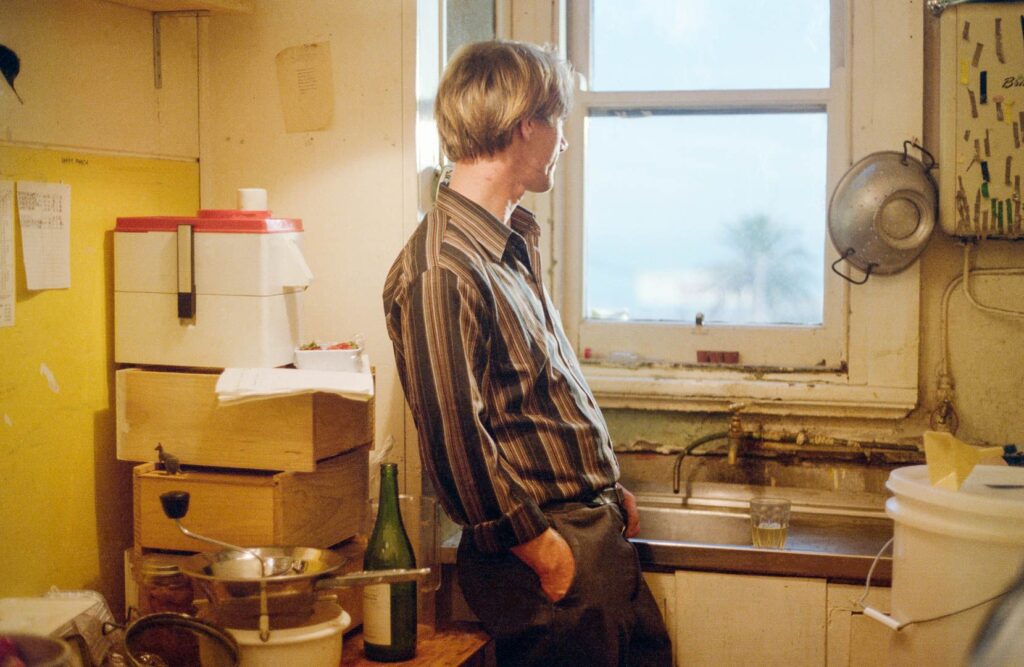 Also with a single screening was The Coolbaroo Club (Roger Scholes, 1996) which explores an essential and, to me, unknown, part of Australia's history: that of an Aboriginal-run dance club located in a community hall in Perth between 1946-1960. The film has a celebratory beginning in the club, yet quickly turns to a collection of frustrated, angry tales of segregation and racism experienced by Indigenous residents of the city. "It was all about not seeing us," the narrator says. The documentary straddles the revolutionary space of the club along with the political activism it spurred. I would have liked more time spent on the latter; more about the founding of the Westralian Aborigine newspaper, which gave an essential voice to a population that was otherwise made silent and invisible, would have been fascinating. But this is a short documentary and should be mandatory viewing in this country; there is more of a chance, too, with the film available on MIFF's streaming platform. This restoration by the National Film and Sound Archive looks terrific, its rich colours and textures captured, even on my laptop.
These were some of my highlights. However, I can only assume that the festival itself doesn't appreciate its own retrospectives or deem it worthwhile to give them historical appreciation. Upon release of the program, no film had its year of release listed on the website, app, or the highly anticipated print version, which returned this year after several years of pandemic-related hiatus. At some point, dates were added to the digital interfaces. Just last year, MIFF made an effort to mark its 70th year as an occasion worth celebrating; more generally, its website describes it as "the leading film festival in Australia and one of the world's oldest." I cannot understand why it would choose to exclude such information about its curatorial material. No effort was made, either, to include information about screening formats, although the Argento collection was prefaced as "all lovingly restored to 4K by Cinecittà." Beyond what could be gleaned from incidental mentions in blurbs, all dates and formats were missing, a baffling choice that I can only describe as ahistorical and uninterested in form. I asked a publicist whether any 35mm prints were screening – there were a few in 2022 that did not get advertised as such – and was told that there were none. I hope that some of this information is brought back in 2024.
That's not to say that individual films and filmmakers felt the same way. Jeni Thornley's memory film: a filmmaker's diary (2023), is a dialogue-free essay film composed of images and recorded fragments from Thornley's past and present. The director introduced her film and participated in an enlightening discussion afterwards, in which she detailed that the film stemmed from Super 8 footage recorded over years of her life and recently been digitized by the NFSA. She shaped this film in the tradition of Japanese death poetry, as a meditation on impermanence and the importance of time and remembering. Thornley documents a personal journey and experience within a broader framework of social and political change, in a work essential to Australia and its own reckoning with its screens. Take time, Thornley said in the discussion, time is important. That includes history.
Elsewhere, it was films by notable directors I was drawn to, far from the "Headliners" strand, which features a slew of no doubt terrific films that have secured local distribution and will, with any likelihood, get a theatrical release before the end of the year. James Benning's Allensworth (2023) was a must-see, particularly after his The United States of America (2022) was such a delight at last year's festival. Allensworth consists of twelve long takes, each introduced by white text on an unadorned black intertitle screen listing months of the year. Benning is a known trickster, and I wondered whether the shots did not actually align with their declared months – one sky was barely distinct from the rest – but this is California, after all, and we are living with a changed climate. Without context, these shots depict well-preserved yet deserted buildings and unpeopled spaces in Allensworth, the first self-administered municipality in the state. Founded in 1908, it failed within a decade and has been a state park since the 1970s. Brilliantly composed, each static shot becomes defined by its stillness and by the most minor of movements; a passing car or bird, the sense of strong winds, the sound of a freight train. In August (the beginning of the school year?), a girl reads Lucille Clifton poems. Benning's mode is not confrontational, but there's a sense of real urgency beneath the calm.
In a similar vein, Wang Bing's latest film Youth (Spring) (2023) is equally non-intrusive in its fairly explicit depiction of teens and young adult migrants working in mainland China's key children's textiles district of Zhili, whose factories operate independently from the state-run industry. The film's Chinese title is Qīng Chūn (青春), whose meaning could just imply "young" but in my interpretation also incorporates "springtime" and "vitality". Wang's portrait, then, is a bittersweet one, as the time spent with the youths, forced to find work away from home, emphasizes that these lives are being wasted. It's certainly hard, monotonous work, but there is a great sense of fun and camaraderie within the factories. At first it might seem like they are just shooting the breeze while they work, smoking cigarettes to pass the time, but eventually the conversations anticipate family responsibilities and children, and this makes the scenes where wage increases are negotiated even more meaningful.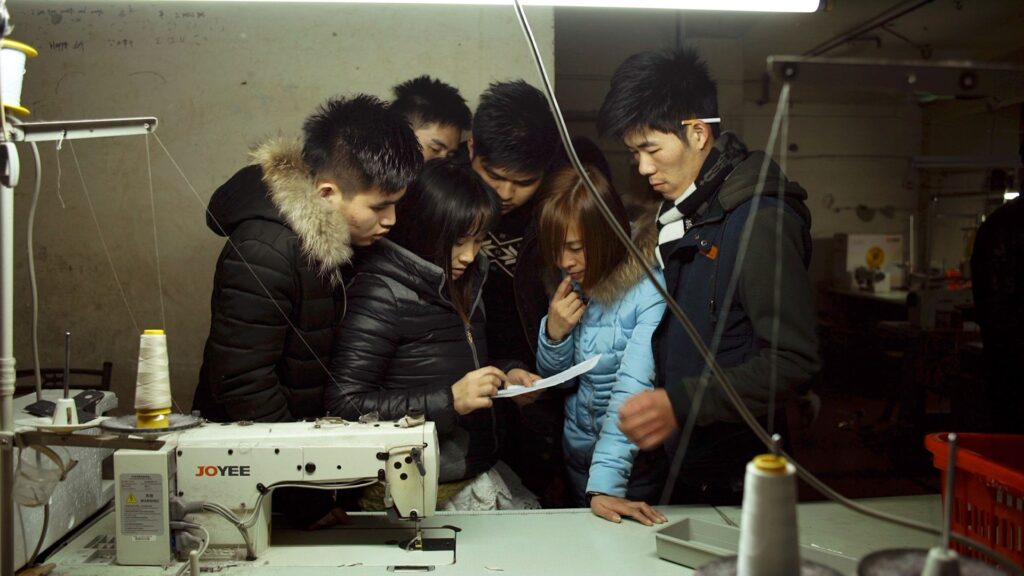 A scene near the end of the film's three-and-a-half hour runtime takes place in the cold, stuffy owner's office, where workers discuss the benefits of wage rises per piece as opposed to pay cuts with an additional travel allowance. It's clear that whatever the outcome, the owner does not want to lose any profit. When he tells his workers that sometimes clients don't pay on time, one woman rightfully responds that their labor needs to be rewarded regardless. Of course, under capitalism (and other social conditions impacting China), this is always going to be the fight. Wang took 2600 hours of footage for this project, and apparently there are more films to come from it.
Drift (Anthony Chen, 2023), from a director whose work I had liked in previous years, is also ostensibly about struggling away from home, but is much more dishonest in its explorations. While it begins as a fairly simple, dull story about an impoverished woman (Cynthia Erivo) living homeless in Greece, with few storytelling devices beyond the most elementary, it becomes a truly reprehensible film about traumas clearly beyond the writers' or directors' realm of understanding. The dialogue is clunky and the film offensively flattens its depictions of Liberia and African immigrants in Europe through clumsy gestures towards civil disruption and racism. While Erivo and Alia Shawkat give excellent performances, they are suffocated by the material, by script and direction that subject its characters to an absurd checklist of what might be called "women's problems."
With each year that I attend MIFF, I track the way my tastes and habits shift. Recently, I have found myself drawn mostly to smaller and local films, with the knowledge that these are films essential to the history of Australia, and to learn as much as I can about the rich and varied industry that breeds the country's best artists. Unfortunately, I couldn't make it to Jason Di Rosso's film The Hidden Spring (2023), a short documentary feature about personal grief. I haven't yet seen Margot Nash's new short Undercurrents: meditations on power, whose work was brought up in the festival blurb about The Hidden Spring. I didn't see many of the films from emerging Australians that were received with such promise. I only hope that, in this country, there will be more chances to get out there.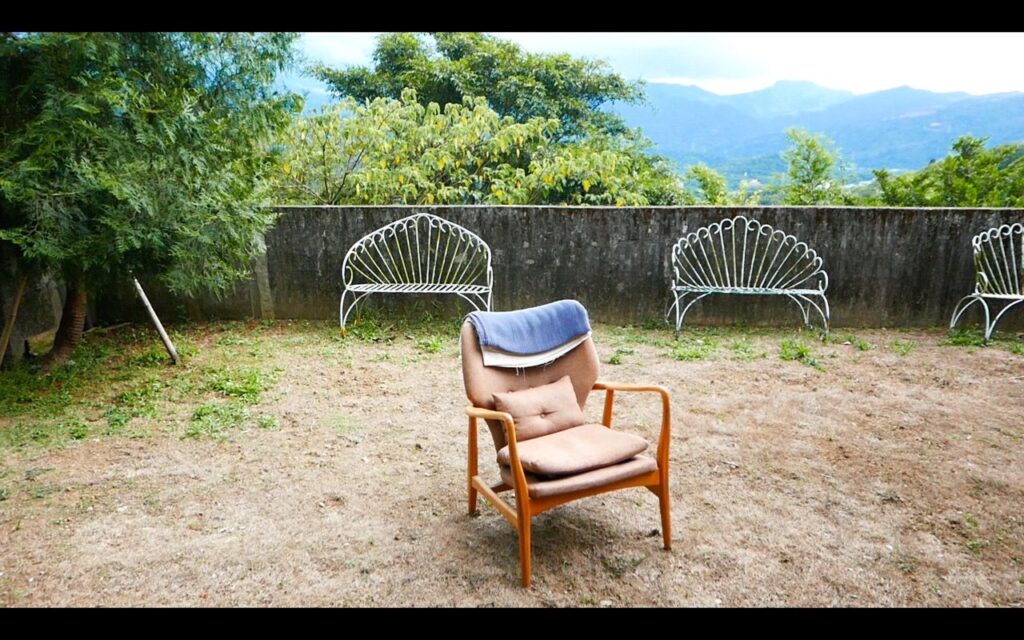 I also see much less than I used to. Part of this is due to changes in lifestyle and occupation, but part of this is because there just isn't the same sense of community that there used to be. I don't see my attendance pattern changing as long as this trajectory of the festival continues. Surveying some elements through the audience experience, it is evident that a lot of strange decisions have been made along the way to get MIFF to the state it is in now. What is nice, though, is that I had the chance to see even a small number of films in cinemas that I wouldn't necessarily get the chance to see elsewhere. In fact, my highlights came in right at the finish line, as part of a shorts package that focused on the work of recognised auteurs. First, two more tricksters. Or perhaps three? Seeing Jean-Luc Godard's Trailer of the Film That Will Never Exist: "Phony Wars" (2023) was very moving, perhaps especially because I don't quite understand it. Where Do You Stand, Tsai Ming-Liang (2022) is a beautiful pandemic film about distance, loss, and abandonment, with a sense of humor. And Lucrecia Martel's Maid (2022), something of a horror film with a touch of magical realism and sharp socio-economic commentary all in less than twelve minutes, is one I haven't stopped thinking about since. Now that's good cinema.
Perhaps Philip Brophy says it best when he describes it as "a type of vomitory cinema". https://unprojects.org.au/article/soda-jerking-pepsi/.